Welcome to our Loma Verde School blog. This is the 6th week of school. We are continuing in distance learning format for our preschool through 6th grade students. Please read below for important information.
PLEASE ATTEND – CVESD VIRTUAL TOWN HALL MEETING MONDAY, 10/5 AT 6:00

The Chula Vista Elementary School District will hold a Virtual Town Hall meeting at 6 p.m. on Monday, October 5. Join us to hear more about plans for a proposed phased reopening of schools to in-person instruction. The time and date of the meeting were moved up in response to parent and staff feedback, and to accommodate the inclusion of two medical professionals with extensive experience and knowledge of the health and care environment, especially in regard to our local community. Superintendent Francisco Escobedo, Ed.D., will be joined by Jeannette Aldous, M.D., and Shaila Serpas, M.D., for this informational and educational presentation. https://bit.ly/2GvE2DR

This event will offer translation in Spanish via the following link: https://bit.ly/30p8p6c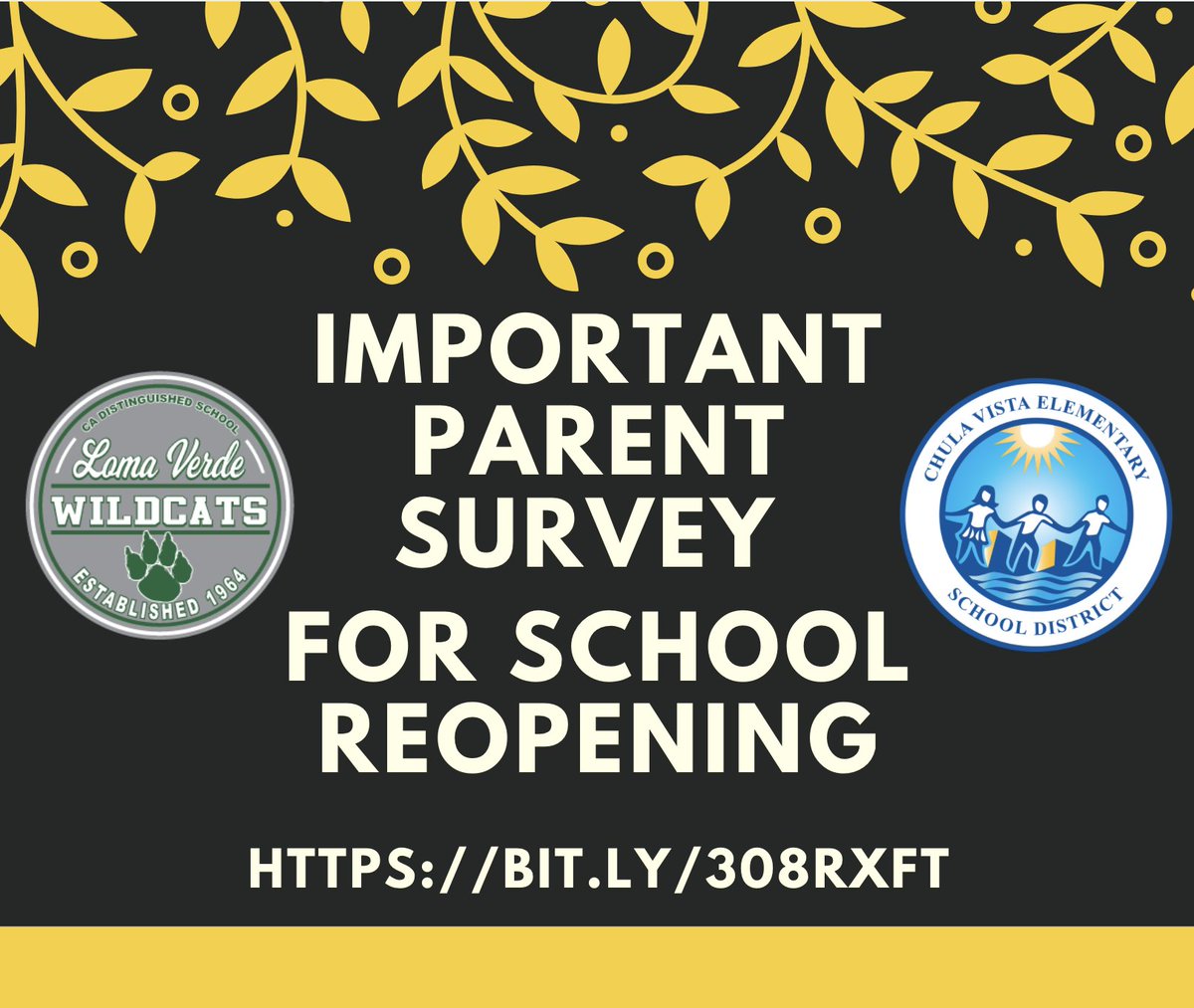 The Superintendent, Dr. Escobedo, released a letter to families on Friday discussing the POSSIBILITY of bringing Pre-K to 2nd grade students and SDC students back for in-person learning. The POSSIBLE date is October 26th. Please know that this date may change or be pushed back due to health regulations. At this time, there is not a date set for grades 3-6. Some important things to note:
Your child's teacher may change
School will be modified days Monday through Thursday only
There will be no childcare available
At any time we could have a full return to Distance Learning due to health restrictions
Every family must fill out the REGISTRATION COMMITMENT FORM below. Please fill out the Registration Commitment Form by 10/6 for every student that you have at Loma Verde (for example, if you have 3 students then fill it out three times).
I know many of you have questions regarding the Commitment Form. Mrs. Watson will respond to all your email as soon as possible. We did want to respond right away to two frequently asked questions.
Question: Can we wait until after the Town Hall on October 5th to respond?
Answer: We will absolutely extend the deadline through October 6th so you have the opportunity to attend the Superintendent's Virtual Town Hall Meeting on Monday, October 5th at 6:00 pm. If you would like to revise your response after the Town Hall, you may do that.
Q: Why are we being asked to fill out a commitment form for the school year? Why not for the quarter?
A: Thank you for the feedback. Dr. Escobedo agrees that the commitment should be for the quarter. A similar survey would be sent out each quarter. Again, we want to reiterate that any opening is based on transmission rate data that will be continuously examined. Please tune in to the October 5 District Virtual Town Hall meeting for more details.
Click here for the CVESD updated FAQs regarding in-person instruction, school reopening plans, and the testing and tracing program.
COVID-19 Parent & Family Resource Guide
Click on A Guide for Parent on Illness or Positive Tests for COVID-19 Virus to learn more about what to do if your child is sick and/or tests positive for COVID-19 and when they can return to school.
Parent Teacher Conferences
Parent-Teacher Conferences are on October 15-22. Students will only have 2 hours of live synchronous instruction during these days. Your child's teacher will give you a more detailed schedule. Please sign up for a virtual conference to review your child's progress, goals, and initial assessments in math and language arts. All meetings will occur virtually, as there are not visitors allowed on campus at this time.
CVESD Student Curriculum Portal: https://www.cvesd.org/district/students
School Site Council Elections for Parent & Community Members
SCHOOL SITE COUNCIL (SSC) is comprised of 5 elected parent/community representatives and 4 elected staff representatives. Thank you for voting last week! Our 2020-2021 SSC Parent & Community Representatives are:
Scott Anderson (1st year of 2 year term)
Robert Hemmingway (1st year of 2 year term)
Hezekiah Herrera (2nd year of 2 year term)
Karen Lopez (1st year of 2 year term)
Aida Mora (1st year of 2 year term)
Our next meeting is Tuesday, October 13 at 3:00 on Zoom.
Verification of Residency Process-Please Complete
Reminder: Residency Verification must be done in order to attend Loma Verde School.  ALL STUDENTS with the exception of incoming Kindergarteners or new students who already registered, MUST provide documentation of residency dated July 1, 2020 or later. Click here for Verification of Residency Form  Click here for the 2nd Family Affidavit (if the home is in someone else's name). Past due bills are ok this year only. Please scan/take a photo of your completed documents with a parent signature and email them to lomaverdeschool@cvesd.org. Forms are also available in front of the school by the gate Monday-Friday from 7:45-4:00. Reminder: No students will be issued a laptop or WIFI hotspot until residence verification is completed.
CVESD Student Distance Learning Acceptable Use Agreement Form
As we continue Distance Learning, as well as using computer when we return campus, it is important that ALL students and parents understand the acceptable use guidelines. Guidelines must be followed due to school guidelines as well as the fact they are using district logins. Thank you for going over this with your child(ren).
CVESD STUDENT DISTANCE LEARNING ACCEPTABLE USE AGREEMENT
CVESD Meal Service for Loma Verde Students
Our Loma Verde meal service will take place from 12:00-2:00 once a week on Thursdays for students. Pick up the 5 days worth of meals at the front of the school.
Loma Verde Lending Library – IT's FREE
On Monday, October 5 and Tuesday, October 6 from 12:00-4:00, Loma Verde will open our NEW Lending Library. It's Free. We at Loma Verde believe that during this time we all need to have real books in student's hands. We have over 200 books donated by The Molina Foundation. Please join us! Come borrow a book and if you have books at home that you have already read to add to our library please drop them off. When you are finished reading the books, drop them back off at school. We will make sure they are cleaned and lent out the next week.
The Lending Library will be open every Monday and Tuesday from 12:00-4:00 pm in front of Loma Verde Elementary School.
Please Return Your Library Books
Please return any Loma Verde library books you still have at home. We will be sending out overdue notices to students that have not returned library books from the 2019-2020 school year. There will be a box in front of the gate by the office from 7:30-4:00 for you to return library books.
Computer Devices & WIFI to Loan Families
We recommend each student have their own laptop with a camera and microphone for Distance Learning. Some tablets have compatibility issues with the Microsoft Teams platform and online learning programs.
If your child needs a device or wifi hotspot, please complete and submit this form below, so we can plan and prepare the devices for distribution. If you do not need a device or hotspot, please do not fill out this form. Please fill out a form for each child who needs a device. Do not fill out for a child who previously received a device. We will notify you when you device and/or WIFI hotspot are ready.
Click Here to Complete the Computer Survey
Click Here to Complete the WIFI Hotspot Survey
TECHNOLOGY TIPS AND SUPPORT
Because our students are using devices for Distance Learning daily, it is important to be sure they are working well. Please remind our Wildcat students to shut down their devices each day. Please know just closing the laptop is not enough. Use the power menu and fully shut down the device each day. Important updates are installed if the computer is shut down. It also completely exits the we browser which helps ensure optimum performance. We are available to support you with technology issue that persist after shutting down the device. We are happy to answer questions you have over the phone: (619) 420-3940 or in person between the hours of 7:30 am and 4:00 pm. If you have a school laptop that is not working properly, please feel free to stop by or call for support.
When opening certain apps, you may receive some type of error. One problem may be that your computer CACHE needs to be cleared. CLICK HERE for instructions.
With information about the COVID-19 pandemic changing quickly, CVESD will do its best to keep our community informed as new details become available. Below you will find links to Community Services.
211 Food Pantry Search

Chula Vista Community Collaborative
Community Through Hope

Cox Affordable Home Internet

CVESD Student Meal Distribution

Feeding San Diego

Jacobs & Cushman San Diego Food Bank

Pandemic-EBT (P-EBT) Benefits
San Diego Food Bank – Food Programs Operating During the COVID-19 Crisis
South Bay Community Services

YMCA Child Care and Resource List
Click Here for the 2020-21-School-Calendar
Contact us at lomaverdeschool@cvesd.org or 619-420-3940.
Get District and School Notifications 2019-20 SMS Text Opt-in Eng Sp combined
Loma Verde Twitter – @lomaverdeschool Our hashtag is #lomalearns
Follow us on the Loma Verde Facebook page.