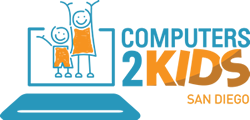 Are you looking to buy a computer? We are excited to host the Computers 2 Kids Computer Distribution Event at Loma Verde Elementary on Tuesday, December 3rd, 2019  from 8:00 am to 9:30 am. Please register for a computer at c2sdk.org or C2K Application – Loma Verde Elementary See additional information on the flyers below.  C2K will bring the registered amount of systems and some additional systems for walk-ups.  Families are asked to bring cash or debit/credit to secure payment at the event. Personal checks will not be accepted. C2K will coordinate with Cox to facilitate an onsite sign-up process for the Connect2Compete program that provides affordable internet to families.
Classes with 100% Attendance for the week of Nov. 18-22, 2019: 5th Grade – Mrs. Galvez
Grade Level Attendance Averages (98% Goal)
TK: 91.58%
Kinder: 94.82%
1st: 93.01%
2nd: 93.98%
3rd: 97.38%
4th: 94.32%
5th: 97%
6th: 94.74%
School Average for the week of Nov. 18-22, 2019 = 94.64%
HOLIDAY TOY DRIVE
The Chula Vista Welfare Council, the Chula Vista Elementary School District, and the Chula Vista Police Action League will all be working together to collect new unwrapped toys for needy children.  Please drop off new toys between November 4 and December 4  in our office.  All the toys will be donated to the Welfare council for later distribution. Thank you in advance for your generosity!
COMMUNITY CONNECT BAGS
Thank you for all your donations for our Community Connect Bags.  Our student leaders and parent volunteers worked with our cohort schools to assemble over 2000 bags for those in need!  If you would like to pick up a few bags to distribute to those in need this month, please stop by our office to pick up a few bags.  We would like to distribute the bags during the month of December to support the homeless or other needy individuals in our area.
YMCA STRETCH OPENINGS
We have openings in our before and after school care YMCA STRETCH program at Loma Verde.  Stop by to pick up an application in the office and return it to the STRETCH office at Loma Verde.  See the link YMCA STRETCH for more information about the YMCA STRETCH Program.
Tuesday, December 3 – 8:00-9:30 Computers 2 Kids Distribution Event https://www.c2sdk.org/
Thursday, December 5 – 8:15 ELAC Meeting
Tuesday, December 5, – 2:30 Kona Ice @ Loma Verde
Tuesday, December 10 – 3:00 SSC Meeting
Friday, December 13 – 8:15 3rd/4th ACE Awards
Monday, December 16 – 8:15 5th/6th ACE Awards
Wednesday, December 18 – 8:15 Kinder Ace Awards
Wednesday, December 18 – On A Roll Lunch with Principal
Wednesday, December 18 – 6:00 P.M. CVESD Board Meeting
Thursday, December 19 – 8:10 1st grade, 8:45 2nd grade ACE Awards
Friday, December 20 – 8:15 TK ACE Awards
Friday, December 20 – End of 2nd Quarter, Report Cards sent home
Monday, December 23-January 13 NO SCHOOL – WINTER BREAK
Get District and School Notifications 2019-20 SMS Text Opt-in Eng Sp combined
Loma Verde Twitter – @lomaverdeschool    Our hashtag is #lomalearns
Follow us on the Loma Verde Facebook page.