Hello Loma Verde Families,
Happy Memorial Day! A friendly reminder that there is no school tomorrow, Monday, May 31st due to the Memorial Day holiday. Classes resume on Tuesday, June 1st. We hope that you will spend some time as a family this Memorial Day to remember and honor those who fought for our country. Enjoy the holiday with your family!
STRETCH Registration for 21-22
Registration for the STRETCH Before and After School Program for the 2021-22 school year is here. Any family interested in STRETCH for 2021-2022 must fill out an application (even if you are currently enrolled in STRETCH or on the waiting list). Here are the important details, regarding the enrollment process:
June 1st – STRETCH applications will become available via link: http://bit.ly/STRETCH_Application21-22
June 1st-June 18th – STRETCH applications will be accepted for the enrollment process.
*Applications received before or after these dates will not be eligible for initial consideration.
*Applications must be submitted via link by a parent/guardian.
*Parents will receive a waiver form to complete the enrollment when the application is reviewed and your child is selected to the program.
*Submitting an application DOES NOT guarantee enrollment!
Starting June 21st- July 2, 2021, All STRETCH applications will be reviewed by STRETCH staff and school personnel. Each STRETCH program has a maximum number of students that they are able to serve. Students will be enrolled based on the rating system detailed below, first come first serve basis, and up to the capacity for each school's program. If the program receives more applications than spaces available, first priority for participation will be given to applications with the most points. Once the STRETCH program has reached its capacity, students not accepted for participation will be placed on a waitlist, in the same order of priority, and will be accepted as space becomes available.
*Student with one parent/guardian currently active duty military or on military deployment. 1 Point
*Student has applied for STRETCH and will attend 5 days a week and for the full duration of the program. 2 Point
*Student has applied for STRETCH and will attend half the program time, 5 days a week. 1 Point
After June 18th, 2021 – STRETCH applications received after the end of the enrollment period will be added to the waiting list.
July 6th, 2021- July 9th, 2021 Families selected in the STRETCH program for the 2021-2022 school year will be contacted by YMCA staff members via phone/email.
If you have any further questions, please contact Giselle Kelly, at gkelly@ymcasd.org

Virtual Town Hall – Preparations for the 21-22 School Year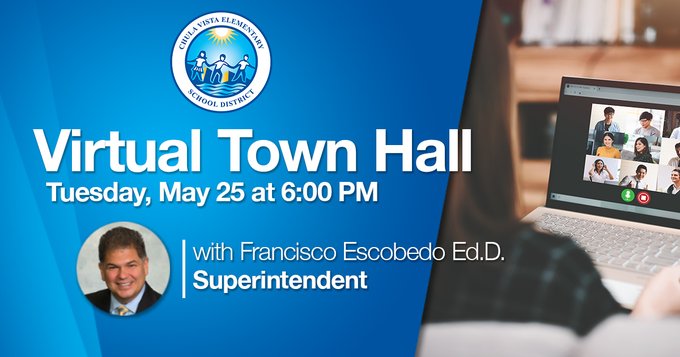 CVESD held a Virtual Town Hall on Tuesday, May 25. Click below to hear more about preparations for the new school year, the 2021-22 academic year.
English – Virtual Town Hall Tuesday, May 25 2021
Spanish – Virtual Town Hall Martes, 25 de mayo 2021
CVESD Virtual Academy Applications Due 5/31 by 5:00 PM
We are looking forward to bringing all of our staff members and students back for traditional in-person instruction for the 2021-22 school year, and we are also aware of parent interest in their children continuing in an online instructional model, similar to distance learning. A few weeks ago, a survey was sent to collect interest on this instructional model and many parents/guardians indicated they would like to explore this option.
The Chula Vista Elementary School District is excited to launch the CVESD Virtual Academy during the 2021-2022 school year. The CVESD Virtual Academy will provide students in Chula Vista with an independent study option as an alternative instructional strategy to meet and enhance their individual student strengths, needs, and learning styles.
The CVESD Virtual Academy is a voluntary program and parents/guardians must apply for enrollment during the application window. Applications to the CVESD Virtual Academy must be submitted online from May 25th through May 31st at 5 PM. For a detailed Parent Overview on the Virtual Academy as well as Frequently Asked Questions, please click here to access the documents.
Click here to apply to the CVESD Virtual Academy from May 25th – 31st.
Thank You Loma Verde Families!
Thank you Loma Verde Families!
We are so grateful for our Loma Verde community! Thank you so much for showing us abundant appreciation last week! We loved all the flowers, treats, kind notes, gift cards, food donations and love! We have the best families at Loma Verde! Thank you for all the appreciation and love!
District Testing – Continues This Week!
CVESD Local Measures Testing continues through June 4 for grades TK-6. K-6th grade will take iReady. TK-2nd will take Smarty Ants, and 2nd-6th grade will take Achieve3000 Level Set. Those students in person will take their tests at school and those in Distance Learning will be taking it with their teacher online. These local measures are the only tests your child will be taking. As previously announced, State Testing has been cancelled this year. Please be sure your child gets a good night's sleep as well as eats a healthy breakfast. It is important to remember not to help your child with any answers. These tests help us determine what your child knows, and where to begin next year when we are all back together!
Residency Verification – Begins June 1st
Residency verification will take place online this year. All students returning to any school in the Chula Vista Elementary School District for the 2021/22 school year are required to show proof of residency at their school of attendance before the start of school in order for their child's name to be placed on a class list. If you have moved out of our area, and would like to continue at Loma Verde Elementary, you must contact the office to receive a Zone Transfer document. You will be receiving an email that will contain a unique "Snap Code" for each of your children enrolled at Loma Verde and a link to the website where you will be able to update information for your child and upload your residency for the 21/22 school year. You will only receive and email if you have a valid email on file at Loma Verde. If your email has recently changed, or if you do not receive emails from the district, please call the office to update your information: 619-420-3940. We will begin sending the "Snap Codes" the week of June 1st. Please make sure to check your emails so that you may complete this promptly. If you have not received your email by June 11th, please contact the school office.
Monday, 5/31 NO SCHOOL – Memorial Day
Tuesday, 6/1-Tuesday, 6/15 Residency Verification for 2021-2022
Thursday, 6/3 – 12:30-2:00 Loma Verde Weekly Food Distribution
Thursday, 6/4 – 3:00 Dinosaur School Puppet Show (see flyer below)
Tuesday, 6/8 – 12:00-2:00 DAC/DELAC Meeting
Thursday, 6/10 – 3:00 Dinosaur School Father's Day Craft Event (see flyer below)
Monday, 6/14 – 1:00-3:30 Loma Verde Device Return (6th grade students return computers, chargers, and hotspots)
Tuesday, 6/15 Last Day of School (Distance Learning – minimum day)
Tuesday, 6/15 – 8:30 6th Grade Promotion Car Parade
Tuesday, 6/15 – 10:00 AM – 12:00 PM 3rd grade DI picnic on the Loma lawn (Ms. Lee's & Mrs. Josa's classes)
Tuesday, 6/15 – 11:00-5:00 Loma Verde Device Return (All students return computers, chargers, and hotspots)
Wednesday, 6/16 – 8:00-3:30 Loma Verde Device Return (All students return computers, chargers, and hotspots)
Wednesday, 6/16 – 6:00 CVESD Board Meeting
Tuesday, 6/23-7/7 Loma Verde Elementary Office Closed for Summer
Wednesday, 7/21 Students Return to School for 2021-2022 School Year
Computer Devices & WIFI Hotspots on Loan to Students – Return Dates:
We will be collecting all school laptop computers that were checked out by families on the dates below. For your convenience, we are offering three different dates with a wide range of times. Please bring the computers and chargers to the front of the school where we will have staff ready to accept them and record that the computer or wifi hot spot device was returned.
June 14th 1:00 – 3:30 PM (6th graders)
June 15th 11:00 AM – 5:00 PM (All students)
June 16th 7:30 AM – 3:30 PM (All students)
If your device was damaged while in your family's possession, you may contact the school office at (619) 420-3940 to set up a payment plan to fix or replace the damaged device. You may also contact the school office if the computer or WIFI hot spot device was lost or destroyed to set up a payment plan to replace the device.
If you would like to return your device earlier (because you have your own computer and no longer need a district device), please contact the school office to arrange an earlier drop-off date and time.
Loma Verde vs. Rohr Virtual Field Day Has Started!
Please click on the link below to participate in our 2021 Field Day Activities Challenge! 😀
Click here for the information about the virtual field day events: https://docs.google.com/presentation/d/1SR701JsszctWXtE2IEXhiXNUVtEuwpeEISxFlUJ_JTw/edit?usp=sharing
Attendance Information
We are very excited to have so many of our Wildcats back on campus! As always, please contact our Attendance Health Specialist, Irene Lemos, if your student will be absent from school for any reason, regardless of whether they are in hybrid or distance learning. Please email irene.lemos@cvesd.org with the reason for your child's absence.
Please note, for students physically at school in hybrid learning, it is very important that parents/guardians speak with our office staff regarding the reason for any student absence from class.  For the health and safety of all students and staff, students who are absent without parent contact will not be allowed back on campus until the parent/guardian discusses the reason for the absence with school office staff.  
Returning to school if you reported your child absent due to being sick:
If a student is sick, we will ask ​the parent to confirm which symptoms the student is experiencing. 
If symptoms align with symptoms of COVID-19, ​the school will follow the COVID-19-decision-tree English (Spanish)  in collaboration with ​the school site nurse. If you have any questions, please feel free to call the school nurse, Linda Kucinski, at 619-420-3940.
If ​symptoms are part of a chronic condition, the school will work with the school site nurse to determine next steps.  
If symptoms are not a possible symptom of COVID-19, the student will be welcomed back to school after following normal school health protocols. 
Please note, that we must follow the COVID-19 decision tree before your child can come back onto campus.
We look forward to an amazing rest of our school year. Thank you for your support of our learning environment. 

6th Grade Promotion Information
The 6th-Grade Promotion car parade celebration is Tuesday, June 15 at 8:30 A.M. Details will be sent to 6th-grade families. A virtual promotion ceremony video link will be emailed.
Have You Changed Your Address, Email or Phone Number?

Have you changed your address, email address, or phone number since the start of the school year? Please notify the office in case we need to contact you in an emergency.
Zone Transfers and Students Not Returning 2021-2022
Click on Registrations and Zone Transfers for additional enrollment information for the 2021 – 2022 School Year.
Not returning to Loma Verde Next Year? Please let us know as soon a possible by sending an email to elsa.estrada@cvesd.org.
2021-2022 Kindergarten, TK, Preschool & New Student Registration
Kindergarten and NEW student registration began on March 15 for the 2021-2022 school year with a NEW online system. There will be no paper packets for this year's registration. Those currently registered DO NOT have to reregister. You will just complete proof of residency when the time comes. CLICK HERE for further information. To view the district website for registration information, CLICK HERE
Return Loma Verde Library Books
Drop off library books at the front of the school as soon as possible. Many students still have books checked out from last school year. Thank you!
Contact us at lomaverdeschool@cvesd.org or 619-420-3940.
Get District and School Notifications 2019-20 SMS Text Opt-in Eng Sp combined
Loma Verde Twitter – @lomaverdeschool Our hashtag is #lomalearns
Follow us on the Loma Verde Facebook page.