"Achieving Excellence for ALL – Juntos Alcanzando Excelencia"
Hello Loma Verde Wildcats! Welcome to our Loma Verde School blog. This is the 10th week of school. Thank you for participating in Red Ribbon Week last week to stand up against drugs. See our AMAZING school spirit below!
Please remind your children how important it is to continue to be hard working, understanding, respectful, kind, and amazing WIldcats as we continue with 2nd quarter! We will continue in Distance Learning mode until further notice. It is critical all our Wildcat scholars attend all their virtual class sessions daily. Attendance Matters! Students should be on time too! We also expect all students to engage for the entire class session and complete their daily tasks. Please let us know if you need any support with Distance Learning. Please read below for important information for the week.
FRIENDLY REMINDER: PER Assembly Bill 77 Synchronous and Asynchronous instructional minutes are the same Monday – Friday. Fridays are not Minimum Days.
Check Out Our Red Ribbon Spirit Days Wildcat Scholars Showing Off Their School Spirit!
Is your child an English learner?
Please join us for the next English Learner Advisory Committee (ELAC) Meeting! Everyone is welcome!
Monday, November 2, 2020 from 2:00-3:00
Join Zoom Meeting:
https://us02web.zoom.us/j/5413283279?pwd=UkdhUU8rK0lNbEh2SWpDSzdvdnMyZz09
Meeting ID: 541 328 3279
Passcode: lomaverde
Spanish interpretation is provide!
Each week we will recognize Loma Verde scholars that demonstrate our 3 Wildcat Personal Standards: Show Respect, Make Good Decisions, and Solve Problems. We are so proud of you!
Wildcat students of the week for 10/23-30
Kinder: Juliette M., Daniella C., Elena M.
1st Grade: Cara V., Celeste P.
2nd Grade: Juan Carlos P, Victoria G., Aidan V., Victoria A., Kollyn A.
3rd Grade: Amairany C., Alexander O.,
4th Grade: Arlette P., Raul P.,
5th Grade: Jared G., Jaylena O.
6th Grade: Yaretzi R., Maily L., Enrique D.
Kids Heart Challenge Coming November 2-20!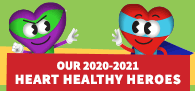 Get ready! The Kids Heart Challenge is coming this week! Details will be shared starting November 2 during VAPA time with Coach Gonzalez.
Join us in learning about heart health and raising funds to protect all hearts – especially kid's hearts! Through fun activities we'll discover ways to take care of our hearts and brains while practicing kindness, gratitude and learning ways to de-stress. Plus, we have the chance to earn PE equipment for our school!
 If 150 students take the Health Challenge we will SLIME the PRINCIPAL Mrs. Watson!  There is a school challenge between Rohr and Loma Verde schools to see who will SLIME the principal first. Wildcats, show your school spirit and sign up to take the Health Challenge beginning November 2.
LINK TO SIGN UP:
https://www2.heart.org/site/TR?pg=company&fr_id=5553&company_id=293697
CVESD Meal Service for Loma Verde Students
Our Loma Verde meal service will take place from 12:00-2:00 once a week on Thursdays for students. Pick up the 5 days worth of meals at the front of the school.
COVID-19 Parent & Family Resource Guide
Click on A Guide for Parent on Illness or Positive Tests for COVID-19 Virus to learn more about what to do if your child is sick and/or tests positive for COVID-19 and when they can return to school.
The CVESD Caring Crew and YOU!
We would like to remind our entire community that following the four pillars of health can prevent the spread of COVID-19. As we prepare for the eventual return of some students to campus in phases, our District and school will be enforcing the four core principles (also known as four pillars) for the prevention of COVID-19. These include: 1) Daily Health Screenings, 2) Mask Wearing, 3) Physical Distancing, and 4) Frequent Hand Washing.
Computer Devices & WIFI to Loan Families
We recommend each student have their own laptop with a camera and microphone for Distance Learning. Some tablets have compatibility issues with the Microsoft Teams platform and online learning programs.
If your child needs a device or wifi hotspot, please complete and submit this form below, so we can plan and prepare the devices for distribution. If you do not need a device or hotspot, please do not fill out this form. Please fill out a form for each child who needs a device. Do not fill out for a child who previously received a device. We will notify you when you device and/or WIFI hotspot are ready.
Click Here to Complete the Computer Survey
Click Here to Complete the WIFI Hotspot Survey
With information about the COVID-19 pandemic changing quickly, CVESD will do its best to keep our community informed as new details become available. Click here to find links to Community Services.
Click here for a list of Community Resources and Events
For specific information on the COVID-19 virus, we recommend reviewing information from reliable sources. Click here for the links.
Election Resources
Our school community encourages all adult citizens to participate in the upcoming election. Please visit https://www.sdvote.com/ to learn about how to ensure your voice is heard in the upcoming election.
Not only is November 3rd Election Day, but it is also MTS Free Ride Day! To help increase access to in-person voting options, all fixed-route MTS and NCTD buses, Trolleys, SPRINTER and COASTER will be free.
While you can skip the fare on Free Ride Day, face covering are a must! Face coverings (worn over your nose and mouth the entire trip) are required on all MTS and NCTD vehicles.
California offers voter registration online, by mail, and in person. Online voter registration is available at RegisterToVote.ca.gov. You can also request and complete a paper voter registration form and mail or hand deliver it to your county elections official to register to vote.
Election Day: November 3, 2020
Registration Deadlines: Online registration deadline is October 19. By mail registration deadline is showing that its is postmarked by October 19. In person registration deadline is November 3.
Absentee or Permanent by mail ballot: Request by October 27. Return by mail must be postmarked by November 3. Return in person must be received by November 3 at 8 pm. Early voting is available October 5 – November 2, but dates and hours vary. For more info, contact the County Registrar of Voters: https://www.sdvote.com/content/rov/en.html
Fun Fact: Did you know that you can also register and vote on Election Day?
Conditional voter registration is a safety net for Californians who miss the deadline to register to vote or update their voter registration information. Voters can use the conditional voter registration process from the day after the deadline all the way through Election Day. Eligible citizens can go to their county election office, polling place, or vote center to register and vote conditionally. These ballots will be processed once the county elections office has completed the voter registration verification process.
Contact us at lomaverdeschool@cvesd.org or 619-420-3940.
Get District and School Notifications 2019-20 SMS Text Opt-in Eng Sp combined
Loma Verde Twitter – @lomaverdeschool Our hashtag is #lomalearns
Follow us on the Loma Verde Facebook page.