SCHOOL YEAR TO START IN DISTANCE LEARNING MODEL
When the 2020-21 school year begins on August 31, it will be in a distance-learning format with no classes occurring at school sites. We will continue to work towards transitioning to in-person instruction but will only do so when guidance from local health officials supports a safe transition back to learning on-site in classrooms.
Computer Devices & WIFI to Loan Families
As we enter the new school year in Distance Learning, we want to make sure that your child has the technology that he/she needs to engage fully with their instruction.  If your child needs a device or wifi hotspot, please complete and submit this form below by August 13, so we can plan and prepare the devices for distribution.  If you do not need a device nor hotspot, please do not fill out this form. Please fill out a form for each child who needs a device.  Do not fill out for a child who previously received a device.  
Click Here to Complete the Computer or WIFI Hotspot Survey
How Distance Learning Will Be Different This Time
The Superintendent of the Chula Vista Elementary School District (CVESD) has committed to providing staff and families a newsletter every two weeks. If you did not read the newsletter that was sent out this week, you may find in the post from July 29th on this blog or click here:
Messages from the Superintendent
Summer Learning Camp
A small number of students per grade level were invited to attend a virtual, online Summer Learning Camp (SLC). This camp will be during the hours of 8:00-11:30 and held daily Monday through Friday from August 10, 2020 to August 21, 2020. This program will incorporate daily one-on-one instruction and small group intervention with teachers online.
Summer Learning Camp will provide instruction in reading and mathematics to students who may benefit from additional intervention. Each child's individual literacy skills and numeracy skills will be assessed and addressed during this ten-day camp. This experience is intended for a limited number of students: Only those students needing additional support in reading foundational skills and mathematics will be invited to attend.
We are excited to offer this virtual Summer Learning Camp next week!
Recovery Intersession
The Special Education and Pupil Services Department is also offering a Recovery Intersession for all Special Education students. This is another individualized, online opportunity for invited students. A highlight of this program will be additional small group and one-on-one instruction tailored for students' needs.
The school day will mirror that of the Summer Learning Camp and be 3 hours and 30 minutes from 8:00-11:30 and held daily, Monday through Friday, from August 10, 2020 to August 21, 2020. Since this special opportunity is not part of a child's IEP, transportation will not be provided, and the school will not hold IEP meetings or conduct IEP assessments. Again, this program is intended for students with IEPs and is available by invite only.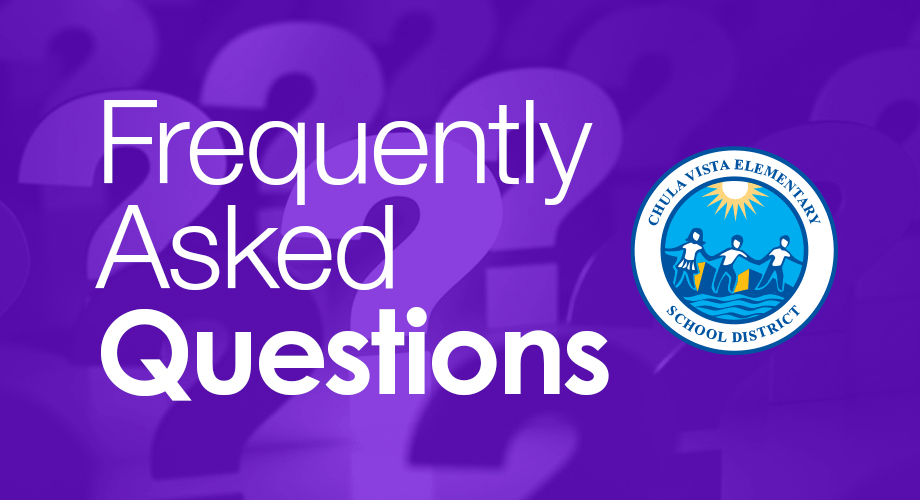 CVESD has developed a Frequently Asked Questions web page to help answer some of the most commonly asked questions from the community. We encourage you to regularly check out this link to stay informed. https://bit.ly/33pX4oF
We hope everyone is doing well and staying healthy!  Please visit our CVESD website for up-to-date COVID-19 information with the link: COVID-19 Info Center.  Please click here to view updated COVID-19 guidance from the City of Chula Vista. You may find more information at www.chulavistaca.gov/coronavirus.
State Guidance on COVID-19 and Schools
We would like to provide guidance from the state of California regarding K-12 education by sharing the information posted on this website: https://covid19.ca.gov/education/#top
Health and Safety Reminders
COVID-19 presents real health risks to our community. Please continue to stay safe: Wash your hands, wear a mask or facial covering, and maintain physical distancing of at least 6 feet when around people from outside your household.

 CVESD Board of Education Meeting
The district's Board of Education meetings are also being held online and generally occur the second Wednesday of each month. The next CVESD Board of Education meeting is Wednesday, August 12 at 6:00 pm.
To access these public meetings, please click the link here: https://www.cvesd.org/board_of_education/board_meetings
August 17 The School Office staff returns and will be available to support families from 8:00 am – 4:00 pm. For the safety of everyone, we ask that you please call or email before coming to the school office. 619-420-3940 or email elsa.estrada@cvesd.org.
Kindergarten & New Student Registration
Do you know a child who will turn 5 by September 1, 2020? It's time for kinder registration! Please spread the word. The school office is closed to the public, so registration is happening online.  Questions? email elsa.estrada@cvesd.org
Register your child for preschool!  CVESD provides free, high-quality preschool for children 3–5 years of age. For more information call (619) 425-2362, or visit http://cvesd.org and click on the Preschool Registration button. Space is limited!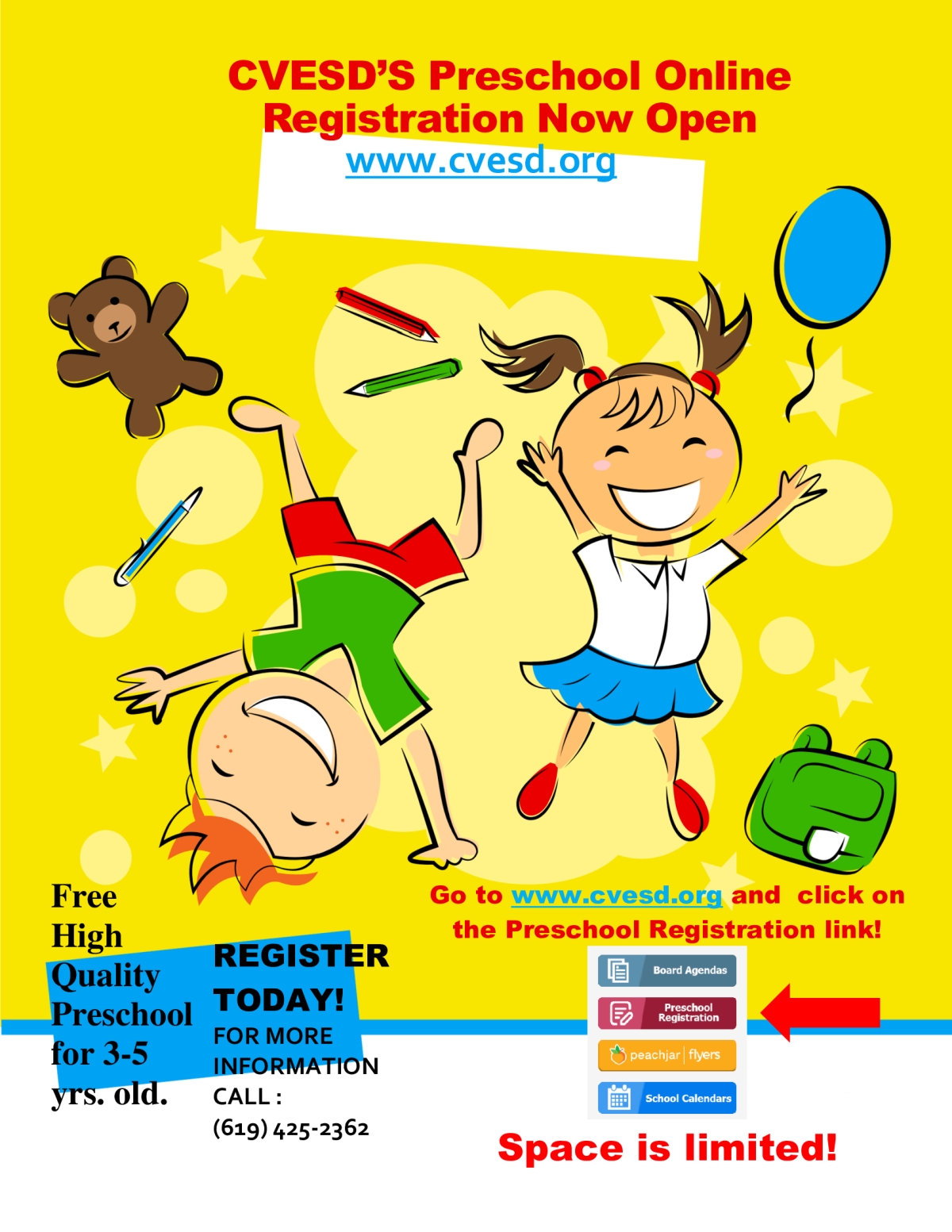 NOT Returning to Loma Verde for the 2020-2021 School Year?
Residency Verification for 2020-2021 ON HOLD
Current Loma Verde students do NOT need to re-register; they are automatically enrolled for 2020-21. Residency Verification for returning students will be done at a later time (stay tuned).
CVESD Free Meal Service Continues
The District will continue meal distribution at nine school sites every week on Monday, Wednesday, and Friday.  District and school staff will distribute the meal bags from 10:00 a.m. to 12:00 p.m.   Please click here for a list of schools where meals will be distributed. Meal distribution will continue through the month of August.
Sleepy Students?
How many hours of sleep does your child receive each night? While each individual child has different sleep needs, children in elementary and middle school (ages 6 to 12), should get between 9 and 12 hours of sleep each night. In fact some scientific studies have shown that students who go to by by 8 pm every night are more successful than those who go to bed at 9 pm! Ensuring that your child goes to bed at a reasonable hour will set them up for success for managing stress and being successful in school.
The American Academy of Pediatrics (AAP) supports these sleep guidelines and encourages parents to make sure their children develop good sleep habits right from the start.
Make sufficient sleep a family priority. Understand the importance of getting enough sleep and how sleep affects the overall health of you and your children. Remember that you are a role model to your child; set a good example. Staying up all night with your teen to edit his or her paper or pulling an all-nighter for work yourself isn't really sending the right message. Making sleep a priority for yourself shows your children that it's part of living a healthy lifestyle—like eating right and exercising regularly.
Keep to a regular daily routine. The same waking time, meal times, nap time, and play times will help your child feel secure and comfortable, and help with a smooth bedtime. For young children, it helps to start early with a bedtime routine such as brush, book, bed. Make sure the sleep routines you use can be used anywhere, so you can help your child get to sleep wherever you may be.
Be active during the day. Make sure your kids have interesting and varied activities during the day, including physical activity and fresh air. See Energy Out: Daily Physical Activity Recommendations for more information.
Monitor screen time. The AAP recommends keeping all screens—TVs, computers, laptops, tablets, and phones out of children's bedrooms, especially at night. To prevent sleep disruption, turn off all screens at least 60 minutes/1 hour before bedtime.  Create a Family Media Use Plan and set boundaries about use before bedtime.​
Create a sleep-supportive and safe bedroom and home environment. Dim the lights prior to bedtime and control the temperature in the home. Don't fill up your child's bed with toys. Keep your child's bed a place to sleep, rather than a place to play. One or two things—a favorite doll or bear, a security blanket—are okay and can help ease separation anxiety. See Suitable Sleeping Sites for more information specifically for babies under 12 months of age.
Realize that teens require more sleep, not less. sleep-wake cycles begin to shift up to two hours later at the start of puberty. At the same time, most high schools require students to get to school earlier and earlier. The AAP has been advocating for middle and high schools delay the start of class to 8:30 a.m. or later. It is important that parents and local school boards work together to implement high school start times that allow teens to get the healthy sleep they need. See the AAP policy statement, School Start Times for Adolescents, for more information.
Don't put your baby to bed with a bottle of juice, milk, or formula. Water is okay. Anything other than water in the bottle can cause baby bottle tooth decay. Feed or nurse your baby, and then put him or her down to sleep.
Don't start giving solids before about 6 months of age. Starting solid food sooner will not help your baby sleep through the night. In fact, if you give your baby solids before their system can digest them, he or she may sleep worse because of a tummy ache.
Avoid overscheduling. In addition to homework, many children today have scheduled evening activities (i.e., sports games, lessons, appointments, etc.) that pose challenges to getting a good night's sleep. Take time to wind down and give your children the downtime that they need.
Learn to recognize sleep problems. The most common sleep problems in children include difficulty falling asleep, nighttime awakenings, snoring, stalling and resisting going to bed, sleep apnea, and loud or heavy breathing while sleeping.
Talk to your child's teacher or child care provider about your child's alertness during the day. Sleep problems may manifest in the daytime, too. A child with not enough, or poor quality sleep may have difficulty paying attention or "zoning out" in school. Let your child's teacher know that you want to be made aware of any reports of your child falling asleep in school, as well as any learning or behavior problems.
Talk to your child's pediatrician about sleep. Discuss your child's sleep habits and problems with your pediatrician, as most sleep problems are easily treated. He or she may ask you to keep a sleep log or have additional suggestions to improving your child's sleep habits.
BE COUNTED – Our Schools Depend on it!
The Census is conducted every 10 years and this information is used to determine how much our schools and school communities will receive in state and federal funds. For more information click here. Due to COVID19 the deadline for the 2020 Census has been extended to October 21. However, if you have not completed the Census, beginning August 11 Census workers will begin going door to door to encourage you to do so! Each person makes a difference so BE COUNTED!
Get District and School Notifications 2019-20 SMS Text Opt-in Eng Sp combined
Loma Verde Twitter – @lomaverdeschool    Our hashtag is #lomalearns
Follow us on the Loma Verde Facebook page.